Development
Agile transformation Walk over the rivalry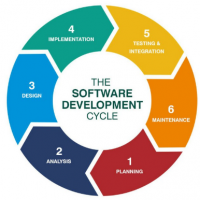 We have expertise in developing enterprise and internet scale applications using state of the art cloud technologies such as AWS, Firebase, Azure etc. Our in house certified developers in AWS and Azure can provide appropriate and cost effective solutions for your growing business and IT requirements.
AREA OF FOCUS

ENTERPRISE APPLICATION DEVELOPMENT
We can deal with complex workflows that fit your business use case. We do Full stack development of enterprise-scale applications that scale up & down as per the needs. Security and Performance is our utmost focus and we never compromise on this.
CLOUD DEVELOPMENT
With emerging cloud technologies, we constantly evolve our skill set to provide efficient solutions for our customers. We provide development of cloud applications that leverage the advantages of cloud computing, such as server less applications, no-SQL etc
MOBILE APPLICATION DEVELOPMENT
With some latest technologies and framework like React JS, we can build a state of the art mobile applications for all mobile platforms that make your business reach extended customers.
SHAREPOINT/MS TECHNOLOGIES
Quick and basic workflow application development can be achieved using SharePoint and we are best and providing elegant solutions using this technology.
FULL STACK DEVELOPMENT
With cutting edge technologies, we will deliver high performant and high-quality applications. Using cutting edge technologies and frameworks that are available today, we can deliver high-quality apps within short period of time. 
QUALITY ASSURANCE (TESTING)
We know what can go wrong in application development. We also know how to set it right using our quality assurance practices. Our quality team can take care of any functional and technical gaps in your application and get them fixed at the earliest so that our customers do not miss any business opportunity.